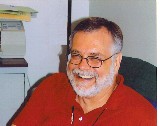 Robert Nowak has been preparing music professionally for more than 30 years. His
orchestrations for composeor William Perry, Naxos and the RTÉ National Symphony
(Ireland) have been heard all over the world. He has arranged and orchestrated music
for Pat Metheny, Maurice Hines, Lucie Arnaz, and Placido Domingo, Jr. He has written
for symphony orchestras, big bands, chamber groups and choirs, and is published by
Robinsdale Music. He has had works commissioned by the New York State Council on
the Arts, Ars Nova Musician's Chamber Orchestra and the Buffalo Philharmonic.
Mr. Nowak also has conducted his own works in concert and for RCA Records, and was guest conductor for Natalie Cole during her It Ain't Over 'Til It's Over tour. He has served as music consultant for television and concert productions including Music Recording Supervisor for NBC-TV's An American Adventure: The Rocket Pilots, and he produced jazz drummer Sherrie Maricle's CD The Time Being for Concord Record's Jazz Alliance label. As a copyist, Mr. Nowak has prepared music for jazz and pop stars David Sanborn, Maria Schnieder, Luther Vandross, Liza Minnelli and Burt Bacharach, as well as for countless Broadway musicals, films, recordings, symphonic works, ballets, and opera, including two Pulitzer Prize winners, Melinda Wagner and Wynton Marsalis. He has taught at New York University and Villa Maria College, presented clinics on music preparation, and has written about the subject for DOWN BEAT magazine. Bob currently work out of New York City.
Bob studied with Dr. Charles Arnold while a double bass major at the State University of New York, College at Fredonia. After college he continued his studies privately with Theodor Mayer, Principle Bassist, Buffalo Philharmonic Orchestra. During this time Nowak entered into an apprenticeship with arranger and music copyist Tony Ragusa.
Bob was born and raised in Buffalo, New York. Buffalo proved to be a fertile and varied training ground. The area's rich musical tradition provided many opportunities to learn both his craft and his art. Performance opportunities abounded with peers such as Rick Strauss, Bobby Previtt and Bobby Millitello and with notables such as Al Tinney, Marylouise Nanna and Christopher Keene. Bob is a proud graduate of Buffalo's Canisius High School where he is active in alumni activities.